About Lana
Registered Nurse and #1 talented and creative permanent makeup artist in Chicago. Customers travel thousands of miles to have their permanent makeup done or corrected by Lana
Permanent makeup expert since 2008
Leading expert in permanent makeup design, application and correction
Lana is ambidextrous with rare ability to use both hands equally well when drawing eyebrows . For example, she uses her right hand to design and draw client's left eyebrow while she uses her left hand to create and draw client's right eyebrow
Five-star reviews on Google, Yelp, Facebook, and other business review websites.
Graduated with high honors ( Magna Cum Laude) from Loyola University of Chicago with Bachelors Degree in Nursing 1994-1999 Chicago, Illinois
Professional Registered Nurse. Lana spent many years working in inpatient and outpatient oncology, radiation oncology, stem cell transplant, an acute med/surg, inpatient medical detox/ substance abuse, inpatient psych and an outpatient day surgery. 1999-2011
Graduated from School of Art with major in Sculpture; Minsk, Russia, 1985-1987
Graduated from School of Music #1; Minsk, Russia, 1980-1984
over 8 years experience in permanent makeup industry, which she thinks is not nearly as important as her genuine talent, unique ability to envision the outcome of her work almost immediately after she see or meets someone new.
Over 4000 fans on Facebook. People from all over the world admire Lana's work. Please visit us on Facebook, Google Plus, and Yelp to see our real client's testimonials. Also, feel free to contact them for references.
Member of Sigma Theta Tau International Honor Society of Nursing, Alfa Beta Chapter, Loyola University in Chicago
US Army Veteran; awarded National Defense Medal for service during 1991-1992 Golf War
We have over 4500 fans on Facebook!


Important - Tattoo Licensing Information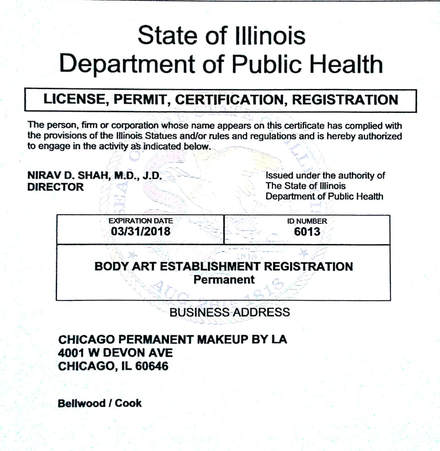 Required Tattoo License
All permanent makeup artists, in the State of Illinois are required to obtain tattoo license/permit. An absence of tattoo license could be an indication of noncompliance with sanitation, sterilization, and hygiene rules instituted by the Department of Health . A tattoo license is not the same as the general beauty salon License. Always ask your technician if he/ she has an up to date tattoo license with the right location stated on that license. Don't assume that someone has a tattoo license just because they work at the prime location, doctor's office, beauty salon, medical spa.... It is illegal in the State of Illinois to tattoo clients in their homes or at location that does not have a special tattoo license. Even doctor's office is required to carry a tattoo licence if permanent makeup is not being performed by the Doctor. By law a tattoo license has to be posted on the wall next to the Blood Borne Pathogens Certificate inside the office where tattooing is being performed. The tattoo license has to be renewed once year. Most permanent makeup technicians working at various beauty salons , med spas and doctor's offices do not work for those businesses and, therefore, those businesses carry absolutely no legal or financial responsibility for the actions of their permanent makeup technicians since they are just renting the space from those businesses.
---
Loyola University of Chicago , Bachelor of Science in Nursing, Magna Cum Laude High Honors Diploma 1999